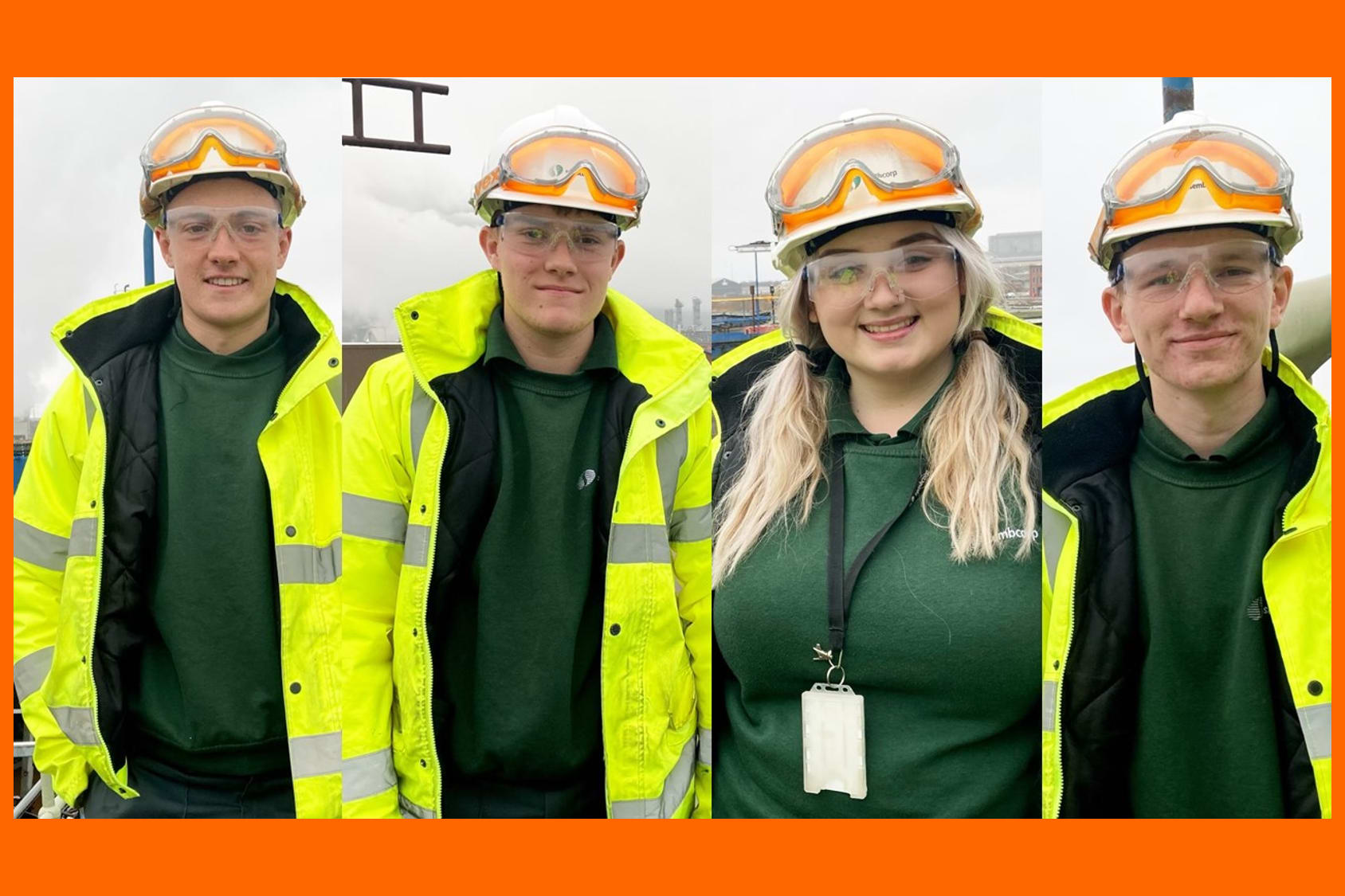 Apprentices set to carry on legacy at water treatment plant
At Sembcorp Energy UK (SEUK), we believe fostering young talent at the heart of the energy transition is essential. Our apprenticeship programmes have been the foundation to ensuring a steady supply of skilled and talented operators and technicians.
Last year, our water treatment plant welcomed its latest group of operational apprentices, who are now poised to join one of our shift operating teams after successfully completing their validations.
Water treatment plant's latest apprentices
This new apprentice group is the first we have trained solely on day shifts, specific to this plant.
SEUK always encourages diversity within its apprentice programmes. And, this year, Ella Snaith, 19, arrived as the water treatment plant's first plant-specific female apprentice.
"She took like duck to water," said Paul Robinson, Minor Utilities Projects Lead in Operations. "So, that's a bit of a milestone."
Paul has worked at the water treatment plant at Wilton International for 35 years. He said training this group was a first for him, as well.
"Obviously, I've got all the years of knowledge and experience behind me, which, clearly, if you've got that, then it does give you that kind of confidence to pass on the information," said Paul.
"I feel like I've passed a legacy on, a little bit, and it's really satisfying. Probably one of the most satisfying things I've ever done."
Passing on a legacy
Paul said several experienced workers at Wilton International's water treatment facility are reaching retirement age. To retain as much corporate knowledge as possible, it was especially important to take on the new group of apprentices.
Paul has been hoping to introduce a new generation to the plant, as he points out; "myself, and the others, are all in the late 50's and early, or even mid 60s," and in time, people will move on.
The successful transition of knowledge is key to maintaining the integrity and consistent improvement of operations across Sembcorp Energy UK.
Graham Taylor, HR Business Partner, said,
"In line with our succession plans, apprentices are an absolute priority for Sembcorp Energy UK and fundamental to our future business success. Central to our vision and aspirations is our policy of providing career opportunities to apprentices that allow them to flourish and develop to their full potential."
In their own words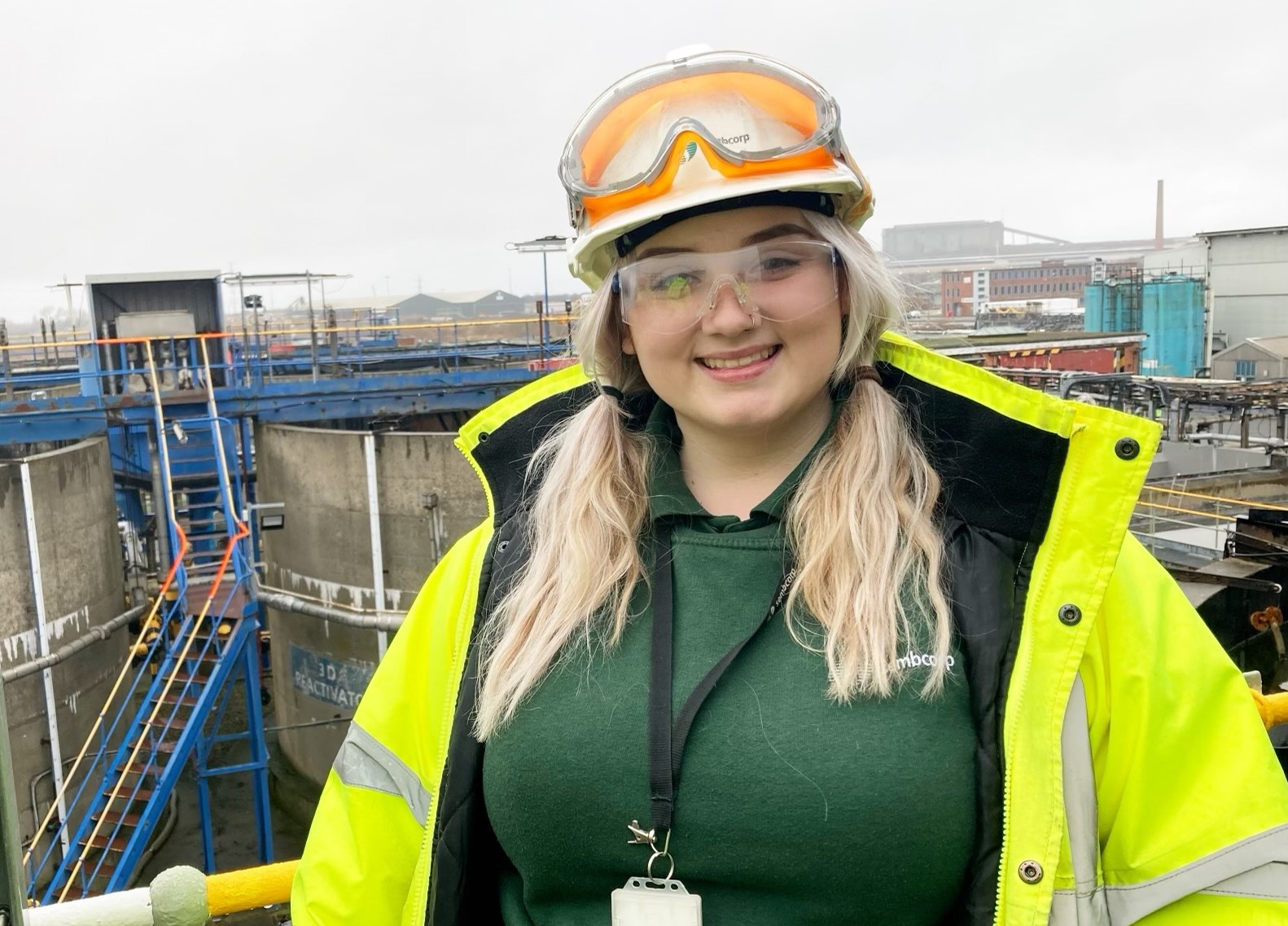 Ella Snaith, 19, said she's proud to be the first female apprentice specific to this plant.
"Being the first girl: someone's got to do it. You just need that one person to do it and say, 'You know, it's not as scary as you think.'"
Ella said that for environments that have been historically male-dominated, "it doesn't have to be like that anymore."​​​​​​​
"I got here and everyone was so welcoming…. It's been really good and I couldn't be happier," said Ella.
​​​​​​​She said she likes that every day at the plant brings something different.
Harry Russell, 19, said he did not know about the industry before his apprenticeship began, and he's come a long way.
"It's like second nature now", said Harry.
"It's a good feeling…. I know they're expecting big things from us and we're expecting to do big things for them, as well".
Harry said he's looking forward to the future:
"I'm excited to see what it brings – I've got a lot in mind that I want to do with myself, so I can't wait for it."
Jake Ford, 19, reminisced about his first day on-site.
"I remember driving down the road looking at it all, and then Paul took me out, and I was just thinking, 'How am I going to learn all this?'"
He said that's a huge contrast to their acquired skills now.
Jake said he sees the benefit of learning from workers who have been at the plant for decades.
"It's like they're passing it down to us," he said.
"They're all really good with us, as well. They're all patient. They've been there before, so they all know [what it's like]."
Taylor Watson, 18, said he didn't know what to expect when he began the apprenticeship.
"Now that we're a year down the line, looking back, it's actually been probably the best thing I could've done - getting an apprenticeship, especially in something like this," said Taylor.
"I feel like it's matured me a little bit, you know, working with loads of older men and stuff. So, I feel like it's developed me, more as an adult than a young lad."
Taylor said they're ready to take up their next challenge and make the transition to shift work,
"Responsibility is massive. So, you've just got to live up to it, really. And just take on everything that Paul's giving us: all the advice and training."
Apprenticeships: paving the way for careers
Graham Taylor, HR Business Partner, started his own career as an apprentice and has a deep knowledge of the benefits from the programme.
"At Sembcorp Energy UK, we have former apprentices who are now Shift Managers, Plant Engineers and Operations Managers – all responsible for managing millions of pounds worth of energy-generating equipment delivering electricity, steam and other vital utilities and services to our customers.
"It is also an absolute given that we need to have competent and qualified people with strong operational and technical abilities. Apprenticeship programmes are one of our most important aspects within our wider training programme. SEUK has a long track record of funding engineering, operations, IT and HR apprenticeships. We currently have 17 employees in the apprenticeship programme, with more to come in 2022."
Paul said the ability to progress within the business helps retain apprentices.
"I think [the apprentices] need to know that there's progression opportunities within the business, which there is, at Sembcorp. And that's one of the things that I love - that they will actively promote you," said Paul.
"If you're keen to get on and improve yourself, they'll be there to help you do that. I've instilled that in them, so they know that there is always a career path."​​​​​​​
And Paul said the sky is the limit for this group of apprentices.
"They are all doing extremely well," said Paul. "And I'm super proud of what they have achieved, because they have made me proud of them, because of the commitment, the approach to the training, and the way that they've handled themselves."
"I'm really excited about the future when I think about this coming year because they're on shift shortly," said Paul.
"And we also have a good team up here, as well, and I think that we can do some really good things together."