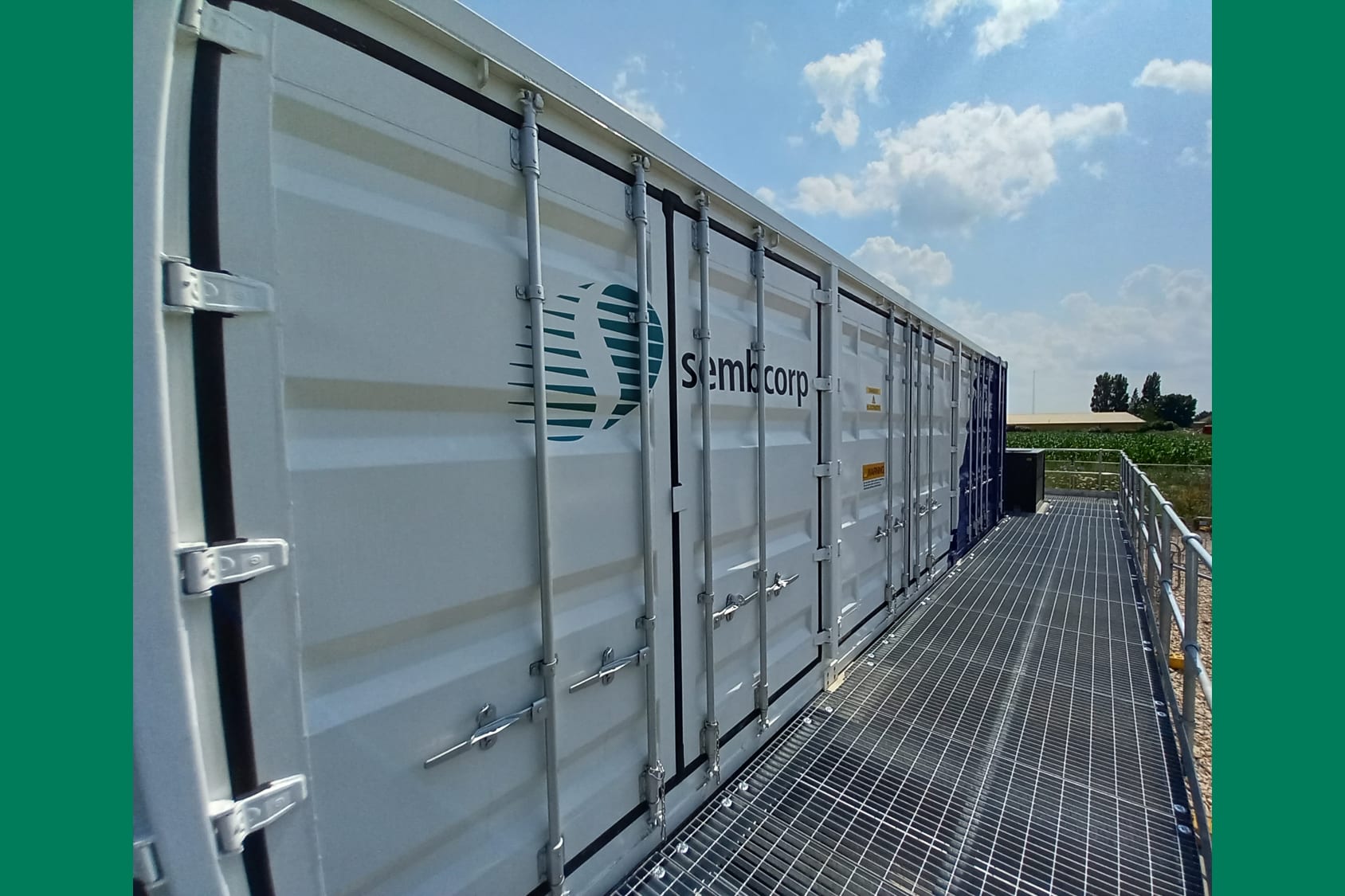 Sembcorp Energy UK secures 150MW battery storage in Capacity Market auction
UK, February 23, 2022 – Sembcorp Energy UK (SEUK) announced that it has secured a 15-year contract for 150MW of two-hour duration battery storage (equivalent to 300MWh) in the provisional results for the latest T-4 2025 / 26 Capacity Market auction. This 150MW tranche, expected to be operational by 2023, is part of a planned total 360MW battery energy storage system announced in December 2021.
Adding to its existing 120MWh battery pipeline, SEUK will have a total battery capacity of 420MWh in the UK.
Batteries can supply power and other services to the national grid within a few milliseconds, providing a secure and stable energy system that will aid the UK's low-carbon transition.
Andy Koss, CEO, UK & Middle East, Sembcorp Industries, said,
"Sembcorp is committed to supporting the energy transition. We recognise that energy storage is essential to the UK's journey to Net Zero 2050, and we are glad to be able to lead the way in this field. SEUK's battery portfolio expansion will help ensure the resilience of the electricity network that will enable the continued growth of renewables and help the UK decarbonise."
This announcement is not expected to have a material impact on the earnings per share and net asset value per share of Sembcorp Industries for the financial year ending December 31, 2022.
– End –
For media queries, please contact:
Amy Shaw Communications Senior Manager
Tel: 07808 241 684 Email: amy.shaw@sembcorp.com
Allison Lee Communications & PR Associate
Tel: 07501 290 287 Email: allison.lee@sembcorp.com
ABOUT SEMBCORP ENERGY UK
Sembcorp Energy UK (SEUK), a wholly-owned subsidiary of Sembcorp Industries, is a leading provider of sustainable solutions supporting the UK's transition to Net Zero. With an energy generation and battery storage portfolio of nearly 1GW in operation, our expertise helps major energy users and suppliers improve their efficiency, profitability, and sustainability, while supporting the growth of renewables and strengthening the UK's electricity system.
Our Wilton International site on Teesside sits within a hub of decarbonisation innovation. At the site, we provide energy-intensive industrial businesses with combined heat and power (CHP) via our private wire network that supplies electricity generated by gas and biomass.
These services are complemented by our fleet of fast-acting, decentralised power stations and battery storage sites situated throughout England and Wales. Monitored and controlled from our central operations facility in Solihull, these flexible assets deliver electricity to the national grid, helping to balance the UK energy system and ensure reliable power for homes and businesses.
For more information on Sembcorp Energy UK visit www.sembcorpenergy.co.uk | LinkedIn | Twitter
ABOUT SEMBCORP INDUSTRIES
Sembcorp Industries (Sembcorp) is a leading energy and urban solutions provider, driven by its purpose to do good and play its part in building a sustainable future.
Headquartered in Singapore, Sembcorp leverages its sector expertise and global track record to deliver innovative solutions that support the energy transition and sustainable development. By focusing on growing its Renewables and Integrated Urban Solutions businesses, it aims to transform its portfolio towards a greener future and be a leading provider of sustainable solutions.
Sembcorp has a balanced energy portfolio of over 15GW, with more than 5.4GW of gross renewable energy capacity comprising solar, wind and energy storage globally. The company also has a proven track record of transforming raw land into sustainable urban developments, with a project portfolio spanning over 13,000 hectares across Asia.
Sembcorp is listed on the main board of the Singapore Exchange. It is a component stock of the Straits Times Index and sustainability indices including the FTSE4Good Index and the iEdge SG ESG indices. For more information, please visit www.sembcorp.com